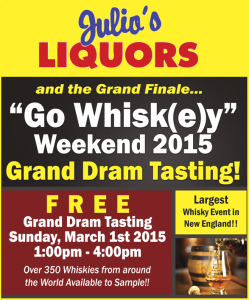 Julio's Liquors Go Whisk(e)y Grand Dram Tasting!
It's a blisteringly cold New England afternoon and hundreds, including myself and two friends, have been lined up outside for nearly an hour. My friend jumps up and down, simultaneously rubbing his hands together in a motion so rapid I'm afraid he might ignite. While his actions serve to keep him somewhat warm in this frigid weather, they stand more as an expression of his excitement and enthusiasm for what is about to ensue. I can hardly blame him either. I've been eagerly awaiting the arrival of this weekend for some time myself. The same could likely be said for many of the other people willingly exposing themselves to the elements this afternoon; some even dressed in celebratory attire for the occasion (read: kilts). One daring individual is even dressed as Mel Gibson's William Wallace; claymore, face paint and all. Despite the turnout, today is not the premiere of some exciting new movie, nor is it black Friday. Rather, on this early March afternoon, during a record cold New England winter, we have gathered here (some, hours in advance) for what my friends and I have affectionately dubbed the ComiCon of whiskey.
Let me set the record straight. This is not in fact the ComiCon of whiskey. In fact that moniker was implemented by yours truly and took some convincing to get my friends on board with (most likely they just went along with it to shut me up). Nor am I aware whether or not there is one out there (although there MUST be and I WILL find it). The official title is
While this title is not nearly as bold as "the ComiCon of whiskey", it is evocative in its own right. Regardless of its name, the level of anticipation is palpable amongst the crowd as we finally funnel into the building. The establishment in question is Julio's Liquors of Westborough, Massachusetts. Julio's is a phenomenal liquor store with a friendly, inviting and not least of all unique atmosphere. For a better look at Julio's and a better background, feel free to visit their website http://juliosliquors.com/wp/. More importantly if you happen to live even remotely near this establishment (a relative measurement) take the time to stop in and visit. Sample some of their selections (yes they offer samples regularly, primarily wine) or come out for one of their Whisk(e)y Wednesdays, Wednesday night tastings.
It's not uncommon for me to liken myself to a kid in a candy store nearly every time I enter an establishment that offers its consumers more than "Macrobrews" or the standard liquor selection available in most stores. I like variety. I like new things (or at least things that are new to me) and most of all I like things that challenge my taste buds. Within moments of walking through the doors it becomes evident to me that this place, and in particular this event, are all of these things and more. If an average liquor store, with a mid-range selection, is my "candy store" then this place is Willy Wonka's factory.
As we walk through the doors, blue wrist bands are quickly slapped onto our wrists. The bands possess ten tabs, each representing one vendor sample a piece; a mere technicality in this wonderland. We are then herded in, towards a table where tasting glasses are being sold at ten dollars a pop. Well worth it as the free alternative consists of a tiny plastic thimble and the tasting glasses naturally lend themselves to heartier pours, not to mention a better quality sipping experience. As people make the split second decision to purchase a glass others begin clamoring about seeking out their first tastings. At this point I'm instantly absorbed by the atmosphere.
There are sixty-five tables representing over fifty vendors lining the walls and dipping into the basement (known as the metro station, where the aforementioned Whisk(e)y Wednesdays are held). It's difficult not to be distracted by the many aisles of alcohol for sale, with an assortment of all varieties that boggles the mind, however purchases and browsing can wait until after the event as there are a mere four hours to consume as wide of a variety of whiskey as possible. Vendors share tasting notes, histories of their respective companies, explain distillation processes and field questions from patrons ranging from newbies to seasoned spirits veterans. Meanwhile people scribble down tasting notes and/or mark off their favorite drinks in a lengthy pamphlet handed out at the door. The atmosphere is fun and inviting while also being informative and includes a great diversity of people. Some have come today out of a love for whiskey. Some are new to the world of whiskey and have come out of pure curiosity. Some have come because their friends have told them there would be free booze and have found themselves wrapped up in and intrigued by the complex world laid out in front of them. Whatever their reasons for coming today, they are all here in harmony, sipping, laughing, and learning.
Suffice it to say that there are more samples here today than any one man could handle; at least in a four hour time frame. Some of the highlights however include: Laphroaig (this year's Cairdeis limited release is a must have, aged in amontillado casks), Bowmore (the Darkest is a personal favorite of mine), Dowmore (even if you don't care for cigars, their cigar malt will make you wish you did), Balvenie (I thought I was impressed with the Caribbean Cask until I tried the Double Wood) and Glenmorangie (the La Santa is… warming). As well as a table dedicated to Sons of Liberty, a local Rhode Island distillery which holds a special place in everyone's heart here at The Bottle Distilled. However, the true treat of the day awaits us at table sixty. Nestled quietly in the back of the store await spirits that are older than my father. It's here that we discover a bottle of Johnnie Walker Black label from the 1950's and a bottle of red label from the 1940's.
To begin, we're given a little insight into what makes these whiskeys so special, aside from their age. In the years post-World War 2, a whiskey shortage caused JW to abandon age statements, which were not reinstated until the 1970's. This created a huge diversity in the ages of whiskey used in the blending process, often leading to the use of whiskeys as old as thirty years, despite black label traditionally being marketed as a twelve year and (originally) red label as a nine year. This little bit of history is what makes this product so remarkable to taste, I was assured. Now, I'd like to point out that I only know two types of scotch drinkers: the ones who love Johnnie Walker and the ones who are indifferent to it. I've always been the latter. I've never really been much of a fan of JW. It was one of, if not the first scotch I'd ever had and but it never really moved me to become a scotch enthusiast; that title has been given to Laphroaig. Johnnie just never struck the right chords for me. However, I was promised that by tasting these relics I would see Johnnie in a completely different light. And guess what? I did.
They both possess intriguing tastes, with complex flavor profiles, like nothing I have had the pleasure, in my relatively short tenure as a scotch enthusiast, of tasting. While I wasn't taking notes, nor do I currently possess the palette to give a detailed breakdown of the flavors attacking my tongue, I can soundly say that both the red and the black are distinct in their own unique ways. They are sharp, flavorful, and linger long after that first sip. So much so, that the next time I saddle up to the bar I might think twice when I see a bottle of Johnnie Walker staring me in the face. I'll think back to that moment I took a sip from those ancient looking bottles and was stunned at what hit my palate. And although it won't be exactly the same there will be a hint of nostalgia with every sip.
What else can I say? IF you're not already salivating at experiencing this day for yourselves you're inhuman or at least a better man than I. I'm salivating at the thought of going back. Sadly it will be another year before the Go Whiskey Weekend rears its head. An experience like this would be cheapened if there weren't so much time in between. There is a reason after all that Julio's advertises the event as the biggest of its kind in New England. However, fear not! Countless tastings exist all throughout the country at various times of the year, just waiting to be explored and experienced. And for those in the immediate area there is always Julio's Whisk(e)y Wednesdays to tide you over until next years' Grand Dram.
Cheers!
Eric Sylvestre – Guest Writer
Special thanks to Eric Sylvestre for this first hand account of the event.