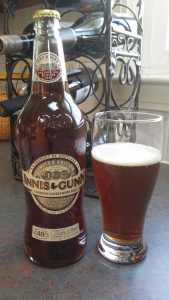 Innis & Gunn, Limited Edition Canadian Cherrywood Aged
This limited edition beer is brewed as a scotch ale and aged with cherry wood, and hints of Canadian maple syrup. This is a robust winter ale with a maple syrup finish and 8.3% ABV.
About Innis & Gunn: The beer started off as an experiment. A whiskey distiller asked them for help, they wanted to season their casks with beer to give them a sweet and malty character that could carry over to the aged whiskeys. Innis & Gunn crafted a custom-made recipe for the distiller and then added the brew to their barrels.
Thirty days later, Innis & Gunn beer was thrown out and whisky went in. During the aging, the Scotch acquired extra qualities from the beer-infused wood, the distiller was happy with the success and continued the process.
But what happened to the beer?
Some inquisitive souls at the distillery had sampled our beer after its time in casks. We did likewise…and the taste was remarkable. It had been transformed by the oak into an unusually refined brew.
This all started back in 2002 and since then Innis & Gunn has been leading the way in oak aged beers.
This limited edition is just another example. As a Scotch Ale, this limited bottling is brewed using roasted barley, wheat and Super Styrian and Goldings hops. Aged for 49 days over lightly-toasted black cherry wood chips. After maturation, while the beer is in cold conditioning, maple syrup is added to give a sweet, caramel finish.
Made using:
Malts: Innis & Gunn Ale Malt, Crystal, Aromatic Barley, Roasted Barley and Wheat
Hops: Super Styrian and Goldings
Maturation: 49 days, bourbon-infused Canadian Black Cherrywood
Finish: Maple Syrup
Tasting notes:
Color: Copper
Smell: Lots of tart red fruit with sweet biscuit malt.
Taste: Full bodied and interesting. Soft hoppy bitterness. Red cherries and maple syrup
Finish: Rich and full with lots of caramel and soft fruits
Have It With: Fresh figs and a soft goats cheese or smoky pulled pork