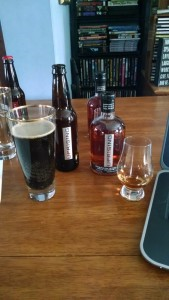 Sons of Liberty Distill Stout Beer & Whiskey
Whiskey comes from beer so why not try the stout that Sons of Liberty uses to distill their whiskey?
Let me start with some quick facts: I am a local Rhode Islander, I drop my "R's" where I'm supposed to pronounce them and add "R's" where they don't belong, I use a bubbla not a water fountain and chowda is white but sometimes red and sometimes clear. We're a confusing lot but although we're the smallest state we pack a lot into it and the Sons of Liberty Spirits Company is just one of the many gems in our state.
Next time you visit little Rhodie make sure you schedule a tour of Sons of Liberty Distillery I highly recommend it. Mike Reppucci, Narragansett RI native & founder, worked with retired Maker's Mark Master Distiller David Pickerell for three years in order to completely understand the whiskey distilling process. Reppucci's due diligence has paid off, resulting in a craft distillery in South Kingstown, crafting Rhode Island's first distilled whiskey since Prohibition. Reppucci's goal came from the desire to answer two questions:
Why is no one distilling single malt whiskies from the beers we love? and Why are there so many seasonal beers, but no seasonal whiskies? -Mike Reppucci-
I recently toured the distillery and like many other distilleries they give you a soup to nuts tour showing you how they craft their whiskey, in this case they start with a stout beer and end with Uprising Whiskey. What I found interesting is that they recently decided to carbonate the stout and bottle it. I found this out when I was reading Where Whiskey Comes From in a January 16th blog post on Whiskey Advocate penned by Lew Bryson. Here's the first paragraph of Lew's post:
I got a box from Michael Reppucci at Sons Of Liberty Spirits in Rhode Island last week. I'd reviewed some of their whiskeys before, noting that their take on craft distilling is to take craft beers and distill and age them. He was reaching out with "an experience that we think is pretty freaking cool." Turned out that I agreed, because what they'd done was take two of the "beers" they make to distill, and instead, carbonated and bottled them. You know, like beer. The idea was to try the beers with the whiskeys.
All I have to say is I'm jealous! Where's my box of beer and whiskey!? I'm looking out my window right now and all I see is snow falling in what's about to be a blizzard, 30 inches of white death. I sure could use some uprising to warm me up when I head out to shovel, hey Mike send me some love.
Personal slights aside I think this is a brilliant move by Sons of Liberty Spirits Company. I'm not sure if they plan on bottling & selling beer now but from the point of view of tasting and appreciating the whiskey they are crafting this is WICKED COOL! Lew ended his article saying that Reppucci's experiment was  "A unique opportunity, an interesting idea. Thanks, Sons of Liberty!"
Well I wish I could weigh in, I'm going to keep my eyes peeled for this brew and I chance to conduct my own research in the meatime, make sure you check out the reviews and try some uprising when you get a chance.