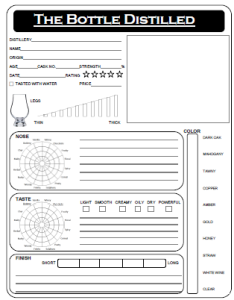 Tasting notes on whiskey and other distilled spirits.
I have been working on this guide sheet for a while now. I have found other similar sheets or tasting wheels but I wanted to make my own for when I have a new bottle or go to a tasting.
In the past I have felt like I was stumbling through tasting whiskey and just sort of trying to guess at what I wanted to describe. I would hear or read about how this whiskey had a vanilla taste to it or a buttery taste with a charred aroma. With these thoughts in mind I would try again and it seemed like I started noticing these taste notes, but I was not convinced if I was picking them up or thinking I was because I was supposed to.
In the end I discovered that all whiskeys are cut from the same basic cloth and the process from to start to finish creates what we have in the glass that sits in front of us. Knowing about the process and what the process "could" result in and how to detect it made me a more aware taster.
And I found out that I enjoyed the tasting even more when I was informed.
This guide sheet TASTING GUIDE SHEET can be used at home or when you go to a tasting. Give it try, grab your favorite and put it to the test.
Share your critiques, I'd love to hear from you.